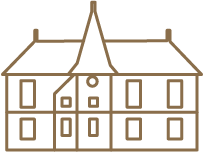 Innocent and carefree
The lovely babbling Artolie stream that winds its way along the bottom of the narrow Paillet valley is reminiscent of Ancient Greece and has the atmosphere of Arcadia, the innocent, carefree land of shepherds.
The priory of Sainte-Catherine of Artolie used to lie upstream to the north-west. Since the 12th century, the door of the Sainte-Catherine chapel benevolently overlooks this plot of Gironde land that looks out over the River Garonne.
The 56-hectare (138-acre) Sainte-Catherine vineyard flourishes before a panorama that takes in the Garonne valley and the Landes forests beyond.